be the fitness rock star
you were meant to be
BECOME A GROUP FITNESS INSTRUCTOR
For over 35 years, AFAA® has provided generations of instructors with practical skills and hands-on experience needed to inspire and motivate the world to move toward happier and healthier lives.
Start your journey by learning: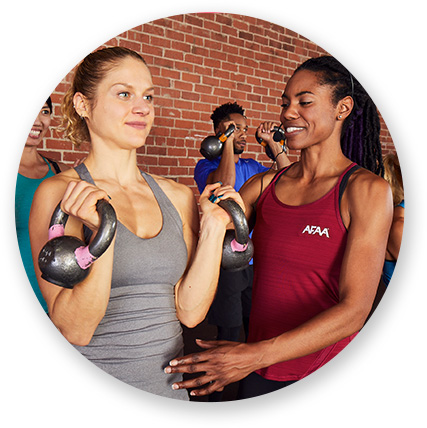 How to design, choreograph and teach a group fitness class.
Essentials of exercise and physiology.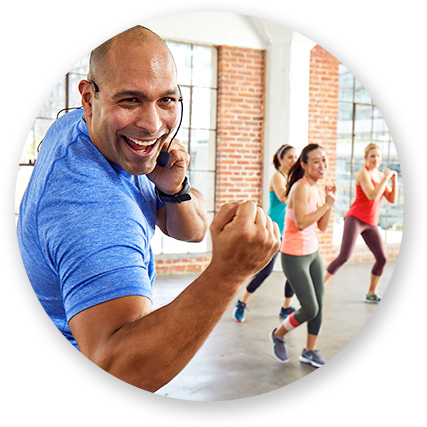 Training on modalities, aquatic exercise, kick-boxing, circuit training, dance, yoga and pilates.
Foundations of nutrition and weight management.
How to adapt for special populations, like pregnant and senior participants.
Business skills and professional responsibilities.
AFAA Group Fitness Instructor Certification (AFAA GFI) is built on the foundation of AFAA's reputation as a leader and innovator of group-based fitness. Not only will AFAA's new course provide for all of the necessary entry-level skills to become an in-demand instructor, it will inform instructors about the format-specific classes and help instructors navigate various career paths within the fitness industry. The AFAA Group Fitness Instructor course provides real-life application to specific exercise formats, examples of cueing, communication, and instruction.  As you progress through the AFAA Group Fitness Instructor programme, you will work towards achieving competency in the following areas:
Demonstrate comprehension of fundamental scientific concepts related to exercise science;
Design a well structured and balanced fitness class or workout for a diverse group of participants that is both safe and effective;
Demonstrate comprehension of key instruction and presentation skills necessary for effective group instruction;
Demonstrate key traits of professionalism as a group fitness instructor; and
Demonstrate the key skills and knowledge required to be a competent group fitness instructor.
During the course students will demonstrate proficiency in the following performance domains:
Fundamentals of Exercise Science
Class design and planning
Class instruction and presentation
Professionalism
During the 2-day training the following topics will be covered either through class lectures, class activities, quizzes and/or independent study:
The group fitness industry
Foundations of Exercise Science
The Human Movement System
Integrated Fitness
Teaching Basics
Teaching: Multi-training and Exercise Technique
Class Planning and Preparation
Adapting to Class Dynamics
Communication and Learning
Inclusive Instruction for Special Populations
Class Engagement and Motivation
Professional and Legal Responsibilities
Nutrition